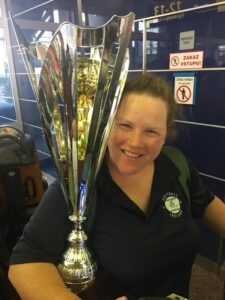 Nationality

Ireland
United States
In today's world of international sport, not many can say they were there at the origin of a program, having been present from the very inception to where it stands today. And certainly nobody can claim to have brought a program further, and in shorter time, than Fastpitch Ireland WNT head softball coach Melanie Cunningham, entering her 6th season as the program's leader in 2021.
From a humble start to 17th in the World and 8th in Europe, Melanie has established Ireland as an elite international team capable of competing with the top softball countries in the world. Melanie has emerged as the face of a programme that has grown under her leadership to medal at the 2018 U19 (silver) European Championships and the 2018 U22 (bronze) European Championships and consistently reach european tournament super rounds.
Domestically Melanie has led the introduction of Fastpitch to the island of Ireland, running a number of introductory days before launching the Fastpitch League in 2019 as she strives to create performance pathways for players to represent their country.
Melanie has played for Ireland 18 times between 2015 and 2017.
Melanie earned her medical degree from the Royal College of Surgeons Ireland and works as a surgeon in Beaumont Hospital, Dublin.