The Playoff format for Super Saturday of the Women's Softball World Cup (Group A) which will be played in Balbriggan, Co. Dublin between July 11 – July 15, 2023 has been confirmed.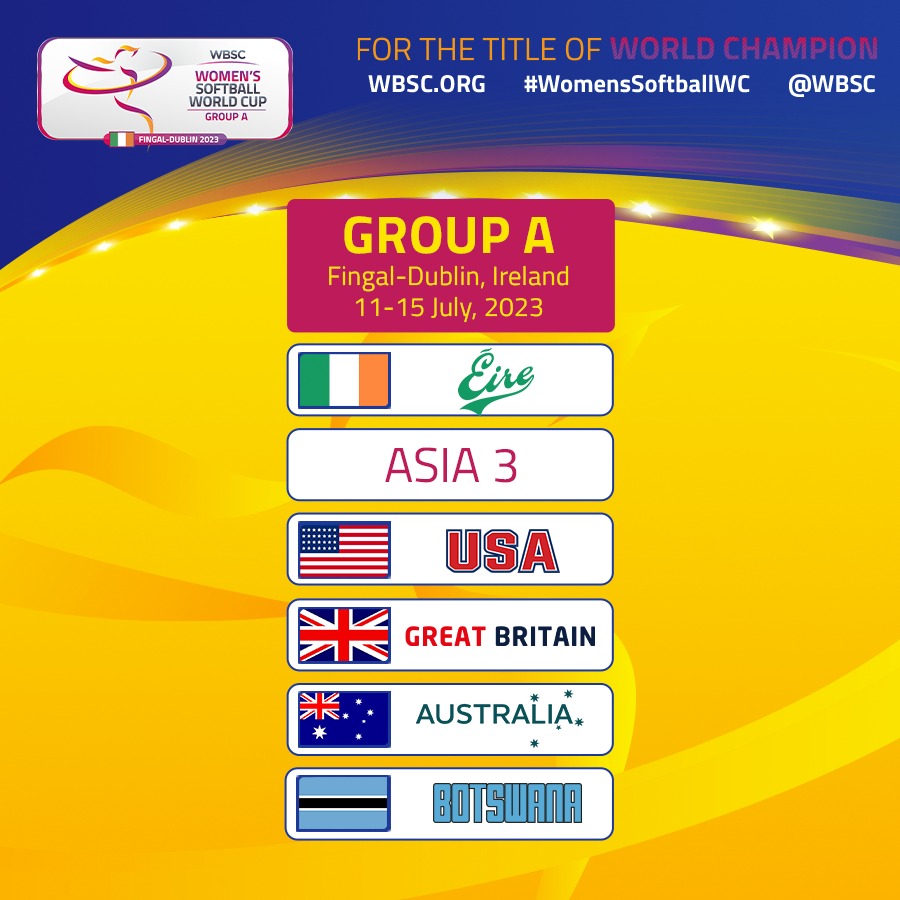 The World Baseball Softball Confederation (WBSC) confirmed the competition format of the Two-Stage Softball World Cups, the new tournament system unveiled two years ago. The system will be used for the WBSC Women's Softball World Cup, the WBSC Men's Softball World Cup and the WBSC U-18 Women's Softball World Cup.
The first event to be held under this new system is the XVII WBSC Women's Softball World Cup this year, which will play the Group Stage in Europe from 11 to 26 July in Fingal-Dublin, Ireland (Group A); Valencia, Spain (Group B); and Castions di Strada and Buttrio, Italy (Group C). The finals will be staged in Italy in the summer of 2024.
Under the new two-stage format, the World Cups are played over two consecutive years, with the Group Stage the first year with the Finals following the year after.
Two-Stage Softball World Cups: Group Stage Competition Format
18 teams feature in the Group Stage spread across three groups
The top two teams from each group in the Group Stage advance to the Finals
Each group in the Group Stage will start with a single round robin.
The best four teams from the round robin will advance to play-offs where the top two sides play each other with a ticket to the Finals at stake.
The loser of the first play-off game will then play against the third v fourth winner for the second spot in the Finals
About – The Women's Softball World Cup is being hosted at a 2,500 seater temporary stadium in Balbriggan Co. Dublin between July 11 – July 15, 2023. The tournament is being jointly hosted by Softball Ireland (Fastpitch) and Fingal County Council – for all media/sponsoship queries please email: softballwcireland@gmail.com